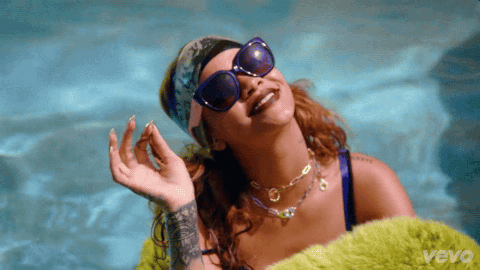 Here at Cosmic Body we are huge fans of songstress, beauty mogul and one of fashion's most inclusive icons, Bad Gal RiRi herself. As tribute, we found our favorite Rihanna looks that are identical to our Cosmic Body products for your enjoyment.
Flower of Love Skin Mist
Rihanna at the 2015 Grammys, image via Getty Images
Rihanna is the literal picture of a rose in thisGiambattista Valli, straight off the runway gown. Light, feminine and airy, this gown is what ourFlower of Love Skin Mist would look like if reincarnated as a gown. 
High Vibrations Skin Mist
Image via Rihanna Instagram, October 2017
Posting this pic with the caption "Tuesdays" on Instagram, wearing a custom made Molly Goddard dress, Riri is the epitome of cool and fresh. Just like our refreshing peppermint High Vibrations Skin Mist, this look motivates us to up our game.
Vital Woman
Image via Savage Fenty, January 2019
Strong, sexy and playful. Rihanna stuns in her Savage Fenty Valentine's Day Collection. Our Vital Woman serum aims to make women feel empowered in their bodies, just like Rihanna. We think our serum and this Savage Fenty collection perfectly compliment each other.
Longer & Stronger
Image via Essence, August 2016
This iconic green fringe jumpsuit is fun, flirty and modern. Rihanna wore this custom made ensemble from designer Abdul Sall ofL'impasse Boutique after her VMA's performance.
This is exactly how we would want our Longer & Stronger serum to look if it were to come to life as an outfit.
6 in 1 Miracle
Image via Fenty Beauty, March 2019
Rihanna glistening in the sunlight, need we say more? Looking every bit the goddess she is in aFenty Beauty campaign for her famous Body Lava. We believe our6 in 1 Miracle gives you that goddess glow, after removing makeup from head to toe, of course!
Everything for Everyone
Rihanna at Coachella 2015, image via Getty Images
Smooth and cool, Rihanna and our Everything for Everyone both channel effortlessness. Our muse was seen wearing this look at Coachella, looking bomb, matching our balm!
Lavender Lemon Oasis
Rihanna at the Fenty Beauty Launch in London, September 2017, image via Getty Images
Gorgeous and once again effortless, this Molly Goddard look Rihanna wore to her Fenty Beauty launch in London perfectly matches how we would imagine our Lavender Lemon Oasis if it were a dress; fit for a princess but packs a punch!
Clean & Sheen
Rihanna making an appearance on GMA, March, 2015, image via TUC Magazine
A fan favorite! Our Clean & Sheen toothpowder and this Pascal Millet pink suit are both works of art. This outfit has as many stunning components as our toothpowder has uses!
Vital Smile
Rihanna at the 2016 Brit Awards, photo via Getty Images
Donning an Armani Privé fresh off the runway gown, Riri is the living, breathing rendition of our Vital Smile. Both shine from the inside out and both parties should be incorporated into your daily routine!